2023 Supporters Shirts Sponsorship
Māori Football Aotearoa is offering you the chance to have your logo on our next order of official supporters shirts.
Now you can be part of the journey in helping Māori Football Aotearoa grow! Have your company or charity's logo displayed on an awesome shirt design that will be worn by supporters of the fast-growing Māori Football for years to come.
There are up to 4 logo placements per shirt design, and 4 shirt designs to choose from. Read the terms and conditions carefully.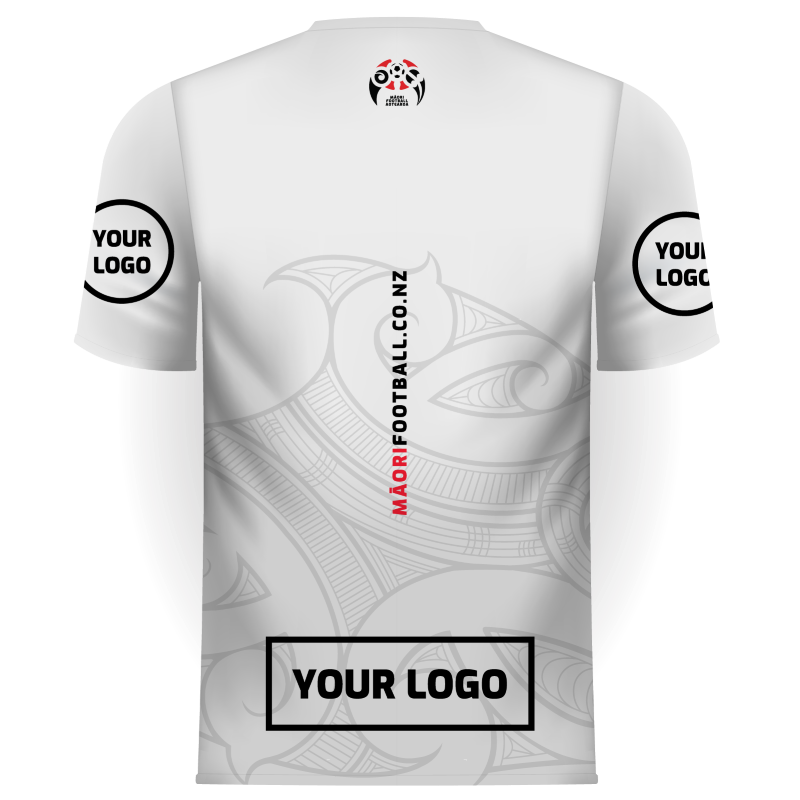 How does it work?
This year's supporters shirts sponsorship opportunity will be run by digital auction. Bids close Monday 23 January 2023 at 8pm.
Pick the shirt design(s) and logo areas you would like to try and claim
Place your bid to win the auction*
Full payment and high-resolution logos must be received within 48 hours of the auction closing
* Anyone bidding for a sponsorship opportunity must have read the below terms and conditions and meet all of the eligibility criteria.
View sponsorship auctions and start bidding
Terms and conditions for this sponsorship
Māori Football Aotearoa ('MFA') has the right to decline any business, individual or entity who places a bid or wins an auction. Any brand wishing to be displayed on a shirt must meet the eligibility criteria and agree to all terms and conditions (below).
Eligibility Criteria
Brands wishing to take part in an auction must satisfy all of the below criteria:
Must not be affiliated with any alcohol, drugs, pharmaceutical or tobacco products.
Must be perceived as a positive brand with no history of negative press or media coverage.
Must have a high resolution logo and be willing to have the logo recoloured or transformed to best fit the design of the shirts.
Logos must not contain any profanity or depict or represent anything that could be deemed offensive in any way.
Strictly no sports clubs logos or logos affiliated with sports clubs or regional sporting organisations.
Terms
Anyone bidding for a sponsorship opportunity must have read and agreed to the below terms and conditions:
This auction is for one (1) logo placement on one supporters shirt design only. There are currently four (4) supporters shirt designs, each with up to four (4) total logo placements (with the exception of the Special Edition shirt design which only has two (2) logo placements on each sleeve). The four current supporters shirt designs currently consist of white, black, red, and special edition.
Māori Football Aotearoa reserves the right to introduce new designs throughout the year.
This sponosrship is for a supporters shirt design only and does not extend to any other apparel, kit, or sponsorship opportunities which may be offered at any time.
There are no exclusivity clauses available for sponsors when sponsoring supporters shirts (i.e. any competing business or entity from any industry may make an offer for sponsorship or win sponsorship for the same shirt).
This sponsorship has a limited time of twelve (12) months from the time the shirts first go on sale.
A

minimum

of sixty (60) shirts per shirt design will be ordered (in different sizes ranging from 2XS to 3XL) within this twelve (12) month period.
Māori Football reserves the right to change or modify the designs of the shirts at any time.
If any more orders are placed within the same twelve (12) month period, the exact same brands and logos will be used regardless.
Once the twelve (12) months have lapsed, this sponsorship will be considered lapsed and Māori Football may seek renewals or new sponsors at its discretion.
Successful sponsors will also receive two (2) shirts featuring their logo free of charge. These will be dispatched as soon as the shirt order arrives.
From the time shirt designs are finalised and the order is placed, it can take approximately 8-12 weeks for shirts to arrive.
Shirts will be sold on the Māori Football website while stocks last, and donated to members within our community from time to time.